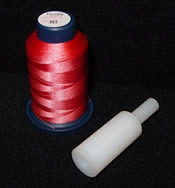 Jenny's Thread Cone Adapter
Quantity in Basket:
None
Code:
JTADAPTER
MSRP:
$9.00
Our Price:
$8.50
Shipping Weight:
0.30 pounds
Jenny's NEW Cone Adaptor for Horizontal Thread Feed
Jenny's beautiful new rayon thread is available on 1,100 meter cones. These cones prefer to be sat on a thread stand and fed up and over your machine. However, some of us prefer to feed the thread horizontally on our machines. This is now possible with Jenny's new cone adaptor!
Insert the adapter into the base of the cone.
Slide the cone adapter onto the machine spool pin.
A spool cap at the base of the cone is not necessary.
Thread your machine and stitch!