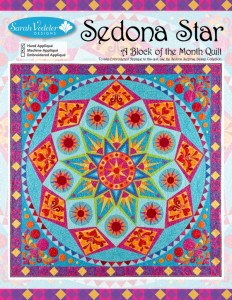 Sedona Star Block of the Month
Digital Download
Quantity in Basket:
None
Code:
SV-SS01
MSRP:
$60.00
Our Price:
$54.00
Shipping Weight:
0.20 pounds
Sedona Star Block of the Month by Sarah Vedeler
The Sedona Star Quilt was created as the 2012 Block-of-Month quilt for The Quilt Show — an online TV show.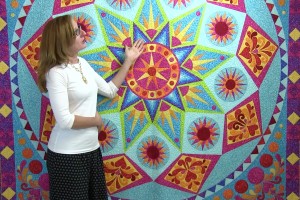 The Sedona Star quilt pattern features appliqué that can be finished by either hand or machine. The appliqué shapes are from the GO! Heather Feather #1 and GO! Heather Feather #2 dies. In addition to the bright, jewel-toned version of the quilt, a second version featuring more subtle earth tones was also created.
NOTE : If you'd like to make Sedona Star with embroidered appliqué, then you need to purchase the Sedona Surprise design collection in addition to the Sedona Star quilt pattern.
Many have won awards with this 88"-square quilt, including blue ribbons and Best-of-Show awards. I've seen some amazingly gorgeous versions of it. Sedona Star has turned into quite the star. Not only has it been featured on calendars, it was also even used as the featured art once for an early morning Sunday TV news broadcast.
Featuring:
Full-sized templates for all appliqué shapes
Full-sized templates for paper piecing
Detailed instructions to complete this project in 12 months
Appliqué, which can be done by hand or machine
Opportunities to learn all types of different techniques, including sewing circles into holes, Y seams and paper piecing.
If life ever starts feeling dull and drab, this is the perfect quilt to add a mega dose of "spectacular" to your life.