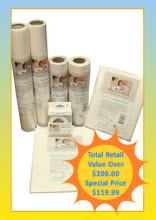 Quilters Select Sampler Bundle
Quantity in Basket:
None
Code:
QSP-SAMP
MSRP:
$200.00
Our Price:
$119.99
Shipping Weight:
5.00 pounds
Quilters Select Sampler Bundle
Perfect Bundle for applique artists to get started with Alex Anderson's Quilters Select Line. PLUS Included in the bundle will be Two of Alex Anderson's Quilt Patterns complete with project instructions and Quilters Select Stabilizing DVD. All by Alex Anderson! Total retail value over $200 for only $119.99!
Bundle includes:
• Select CutAway 15" x 10 yds
• Select TearAway 15" x 10 yds
• Select Print & Piece Fuse Lite (25 Sheets) 8.5" x 11"
• Select Appli-Stick 10" x 10 yds
• Select Appli-Stick Tape 1" x10 yds
• Select Appli-Web Plus 10" x 10 yds
• Select Fabric Prep 30" x 1 yd
• Stabilizer Video DVD with Alex Anderson
• Pattern CD with Two Quilt Patterns by Alex Anderson