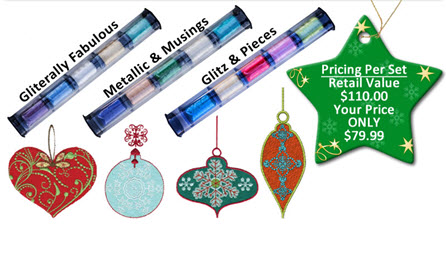 Floriani Metallic Thread Tubes - Metallic Musings
Quantity in Basket:
None
Code:
PF-MTUBE2
MSRP:
$110.00
Our Price:
$79.99
Shipping Weight:
0.75 pounds
Metallic Musings
Just in Time to make your Holidays Shine!
WHILE SUPPLIES LAST! Three tubes of Floriani Metallic Thread, each on sale for an amazing price! 5 spools a tube, each spool with 880 yards of brilliant Metallic colors! All for UNDER a $100 at just $79.99 for each set! You get the BEST metallic thread ever made for less than $0.02 per yard! Compare to any other brands and you will see, Floriani gives you a better product for less!
Available in 3 different tubes:
Glitz & Pieces (PF-MTUBE1) PTG2, 28, 30, 35, 36
Metallic Musings (PF-MTUBE2) PTG1,28, 31,32,33
Glitter-ally Fabulous (PF-MTUBE3) PTG3, 27, 34, 38, 41
AND if you buy all three sets together, we'll include a FREE copy of the Floriani Holiday Ornaments set!
Metallic Musings Includes the Following Colors:
| | | |
| --- | --- | --- |
| | G1 | Blonde Gold |
| | G28 | Red |
| | G31 | Copper |
| | G32 | Dark Blue |
| | G33 | Turquoise |