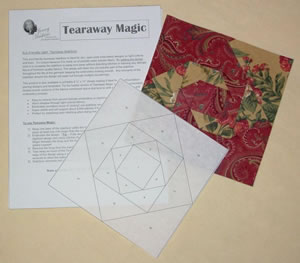 Jenny's Tearaway Magic Sheets - LIMITED QTY!
Eco-Friendly 1.5 oz Tearaway
8.5"x11"- 20 sheets
Quantity in Basket:
None
Code:
JTMP
Our Price:
$12.99
Shipping Weight:
0.50 pounds
Jenny's Tearaway Magic
Eco-Friendly 1.5 oz Tearaway
This eco friendly tearaway stabilizer is ideal for airy, open work embroidery designs on light cottons and linen. It's unique because it is made up of partially water soluble fibers. By wetting the design once it is complete the stabilizer is easily torn away without distorting stitches or harming any delicate fibers of heirloom quality fabrics. The design will retain the non-soluble part of the stabilizer throughout the life of the garment; keeping the embroidery looking smooth. Any remnants of the stabilizer around the design will wash out through multiple launderings.
Easy to remove from around delicate embroidery or machine stitching.
Won't shadow through light colored fabrics.
Eliminates countless hours of "picking" out stabilizer remnants.
Super stable and will support about 8,000 stitches if the design is well-digitized.
Perfect for stabilizing satin stitching when doing machine appliqué.
How to use Tearaway Magic:
Hoop one layer of the stabilizer within the frame with the garment or fabric. Be sure to use a piece at least one inch larger than the outer parameter of the embroidery frame.
Embroider the design. *Tip - If the design is denser than 8,000 stitches or if it is a poorly digitized design (too many stitches for design size), float an additional layer of Tearaway Magic between the hoop and the bed of the machine for each additional 8,000 stitches for added support!
Remove the hoop from the machine and from the garment.
Tear away as much of the Tearaway Magic stabilizer as possible *Optional - Wet around the edge of the design using a sponge, foam paint brush or envelope sealer. Wait about 5 seconds to allow the water to activate the water soluble portion of the stabilizer.
Stabilizer remnants will continue to wash out in the laundry with a mild detergent and agitation.
Sizes available: 12" x 10 yds, 20" x 10 yds, 8.5" x 11" sheets