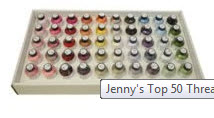 ON SALE! Jenny's Top 50 Thread Set + FREE SHIPPING!
Quantity in Basket:
None
Code:
JT-50TS
MSRP:
$349
Our Price:
$199.99
Shipping Weight:
5.00 pounds
Jenny's Top 50 Threads Set
Get the top 50 colors of Jenny Haskins Rayon Thread for a price to warm up your spring! Normally a $350 retail value this set will be just $199.99 during Spring Into Savings!
Quilters use rayon as it is softer than a polyester thread and it has a high lustre. It is more colorfast and stronger than fabrics used in quilts. It also quilts softer and the lustre flow is nicer. Keep in mind the "longer the stitch – the slower the machine". Rayon Thread does not stretch like polyester, meaning it does not retract after the stitch is formed. For years, Commercial Embroiderers would only stitch with Rayon, and not just because of the sheen - they liked the way the thread lays on the fabric instead on getting lost in the weave of the fabric. Get that superior thread for yourself with this great, limited time deal!
Includes 50 spools ( 40 weight, 1100 yard each) of Jenny's Rayon Thread that will enhance the beauty of all embroidery! This thread set is a perfect set to get started on your collection of Jenny's wonderful thread.
The Jenny Haskins Rayon is designed to run smoothly on any machine but has the strength to endure the speed of commercial embroidery machines. Jenny's thread has an amazing high sheen and is color fast with a reliable dye-lot consistency not always found in Rayon Threads.
The Top 50 Threads included:
1173 – Summer
84 – Fern
139 – Verde
174 – Paradise Hill
201 – Granny Smith
SB – Black
98 – White
689 – Silver
63 – Blue Bonnet
1112 – Sky Blue
605 - Storm
180 – Dark Secret
126 – Pewter
224 – Mulberry
225 – Plum
179 – Gypsy Wind
222 – Wisteria
148 – Pixie Dust
14 – Buckeye
186 – Milk Chocolate
679 – Tumbleweed
9 - Llama
653 – Vanilla Tan
618 – Bambi
620 – Nutmeg
10 - Dune
121 – Latte
191 – Band of Gold
72 – Sunny
145 – Crushed Orange
234 – Karlina
233 – Wine
119 – Flower Pot
658 – Calypso Orange
612 – Red Bluff
1008 – Dark Burgundy
230 – Pomegranate
99 – Vermilion
6 - Red
49 – Magenta
693 – Cool Salmon
187 – Mauve
673 – Berry
5 – Rose Sharon
1048 – Pink Burst
1672 – Positively Pink
692 – Citrus Cloud
672 – Sweet William
671 – Cherished
615 – Baby Girl