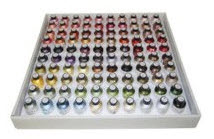 ON SALE! Jenny's Top 100 Thread Set + FREE SHIPPING!
Quantity in Basket:
None
Code:
JT-100TS
MSRP:
$699.00
Our Price:
$399.99
Shipping Weight:
10.00 pounds
Jenny's Top 100 Threads Set
Includes 100 spools (40 weight, 1100 yard each) of Jenny's Rayon Thread that will enhance the beauty of all embroidery! This thread set is a perfect set to get started on your collection of Jenny's wonderful thread.
The Jenny Haskins Rayon is designed to run smoothly on any machine but has the strength to endure the speed of commercial embroidery machines. Jenny's thread has an amazing high sheen and is color fast with a reliable dye-lot consistency not always found in Rayon Threads.
Top 100 Thread Set includes:
676 Acropolis
63 Blue Bonnet
605 Storm
1112 Sky Blue
654 Sand Storm
6 Red
653 Villa Tan
689 Silver
205 Jungle Green
SB Black
688 Winter
1041 Seafoam
521 Platinum
82 Celery
201 Granny Smith
1173 Summer
84 Fern
174 Paradise Hill
139 Verde
98 White
72 Sunny
191 Band of Gold
121 Latte
10 Dune
679 Tumbleweed
681 River Road
231 Penny Hill
682 Deer Park
409 Malt
618 Bambi
552 Old Gold
420 Wheat
190 Ray of Light
107 Angel Food
119 Flower Pot
12 Chestnut
14 Buckeye
186 Milk Chocolate
177 Auburn
620 Nutmeg
126 Pewter
224 Mulbery
58 Purple Jewel
488 Dusty Purple
180 Dark Secret
148 Pixie Dust
179 Gypsy Wind
622 Acorn
168 Clay
624 Brown

225 Plum
226 Eggplant
488 Dusty Purple
233 Wine
1008 Dark Burgundy
152 Dark Cranberry
234 Karlina
230 Pomegrante
1018 Cherry Soda
1000 Scarlet
135 Italian Rpse
658 Calypso Orange
1085 Apricot
1086 Spun Gold
52 Sierra Vista
517 Briar Root
146 Tiger Lily
99 Vermilion
9 Llama
147 Strawberry
133 Georgia Peach
612 Red Bluff
613 Copper
674 Carnation
189 Heart To Heart
673 Berry
228 Flicker
176 Plum Jewel
175 Plum Shade
187 Mauve
692 Citrus Cloud
693 Cool Salmon
159 Melon
1672 Positively Pink
5 Rose Sharon
49 Magenta
1048 Pink Burst
662 Dark Flesh
227 Natural Flesh
188 Rosa
3 Pink Posey
672 Sweet William
2 Pinky
158 Pixie Dust
46 Pretty Petunia
671 Cherished
1158 Everything Rosey
1156 Baby's Breatch
1 Darling
615 Baby Girl