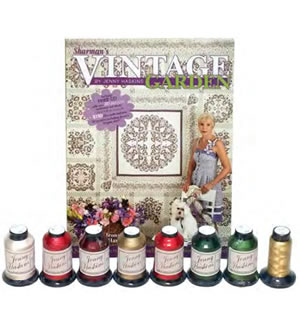 Jenny Haskins Sharman's Vintage Garden Book Bundle
Quantity in Basket:
None
Code:
JSP-SVGBB
MSRP:
$150.00
Our Price:
$99.99
Shipping Weight:
1.50 pounds
Jenny Haskins Sharmans Vintage Garden Book Bundle
Bundle includes:
Sharman's Vintage Garden Book
7 spools of Jenny's Rayon threads (1000m)
1 spool of Jenny's Metallic thread (400m)
Bonus CD with 4 pdf articles included!
Recreate the beautiful pillow from Sharman's Vintage Garden book with this bundle of the book and the holiday themed Rayon and Metallic threads needed to make a seasonal version of it!
And as a bonus, we're including a BONUS CD of RNK articles and techniques and projects for FREE! Normally you would pay MORE than $150, but in Christmas In June/July you will ONLY PAY $99.99!