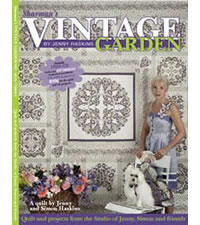 Sharman's Vintage Garden Special Bundle
Quantity in Basket:
None
Code:
JSP-JSVG
MSRP:
$179.00
Our Price:
$99.99
Shipping Weight:
1.25 pounds
Sharman's Vintage Garden Special Bundle
In the Holiday issue of Classic Sewing, you can read about the beauty of Jenny Haskins Sharman's Vintage Garden with Gina Hodges' project article in that issue. Now you can take advantage of that Magic with this special offer! For a limited time, you can get both the Sharman's Vintage Garden book and the Sharman's Garden design set in one great deal! Over 100 designs for unlimited combinations, and in one deal for just $99.99! That's less than the design set alone, which normally sells for $119.99!