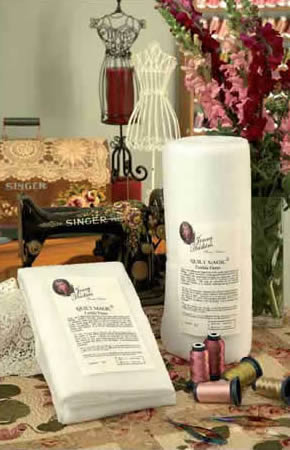 Jenny Haskins Quilt Magic
Light Fusible Quilt Fleece
59" x 15 yds
Quantity in Basket:
None
Code:
JQM15
MSRP:
$389.99
Our Price:
$339.99
Shipping Weight:
7.00 pounds
Jenny Haskins Quilt Magic
Enjoy the softness and flexibility of this super light, fusible quilt batting/fleece. Now you can create "non-bulk" quilted garments such as jackets and vests that drape and move freely with your body. Construction of home décor items such as pillows and table runners will be elegant and perfect! The fusible feature of this lofty fleece will make all your quilts and quilted items come together much easier. Quilt your project as random as you like, the fusing will help to eliminate puckering and will hold the fleece together, even through launderings!
Prepping your fabric and fusible fleece:
If using a fabric that has a risk of shrinkage, it is advised to pre-shrink the fabric by pre-washing.

Pre- shrink Quilt Magic fusible fleece by gently steaming the non-fusible side with steam just before pressing it to the fabric.

Try something fun and different!! If your goal is to have an antiquated looking quilt, do not pre-wash or pre-shrink your fabric and/or fusible fleece. When washed in warm water the fabric will slightly draw around the fused fleece creating a very unique quilted look. This technique works beautifully with redwork designs on premium quilt cotton.
Fusing Quilt Magic to Fabric:
Fuse the shiny, textured side of Quilt Magic to the back of the fabric using a Medium setting on your iron or press. Steam is not necessary but will not harm the fleece if you use it while pressing the item. Be sure your iron touches the fabric, NOT the fleece. Use a press cloth if necessary. **Remember that steam will cause slight shrinkage in your fleece and fabric. Prep your materials by pre-shrinking if this is not your overall goal for the piece you are working on.

**Just like traditional quilt batting, it is also recommended to cut Quilt Magic at least one inch larger than your fabric piece and then trim to size once it is fused in to place.

**Because all irons vary in temperature settings, start at a lower setting when fusing the fabric to fleece and gradually increase the heat setting until you get a good fuse!
Sizes available: 59" x 1 yard or 59" x 5 yards or 59" x 15 yards
Back in stock and available for immediate shipment!