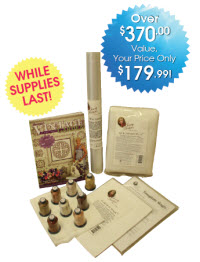 Jenny Haskins Pre-Summer Stabilizer Bundle + FREE Sharman's Vintage Garden Book!
Quantity in Basket:
None
Code:
JHPSSB
MSRP:
$370.00
Our Price:
$179.99
Shipping Weight:
3.50 pounds
Jenny's Pre-Summer Garden Bundle
Nothing makes it easier for you than an all purpose bundle!
This set will give you 5 of Jenny's favorite quilting supplies plus Jenny's Rayon Thread:
JTMP Tearaway Magic Printable Sheets, 8.5" X 11"
JTEM Template Magic Printable Sheets , 8.5" X 11"
JHEM20 Heat Magic, 20" X 10yd
JSMP-1/2 Sheer Magic Plus, 60" X 0.5yd
JQMP1 Quilt Magic Plus, 60" X 1yd
8 spools of Jenny's luscious Rayon Thread, 1000 meter
ALSO INCLUDED, Jenny's only book to include over 60 exclusive Jenny Haskins Designs, 'Sharman's Vintage Garden'! Fans love these embroidery designs, which are valued at over $200 alone, not to mention this great book of treasures featuring some of Jenny's greatest creations.