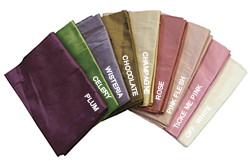 Jenny Haskins Premium Silk Gold
56" wide x 1 yard
Quantity in Basket:
None
Code:
JH-SLKGOLD
MSRP:
$24.99
Our Price:
$19.99
Shipping Weight:
0.50 pounds
Jenny's Premium Silk Collection
Finally! A beautiful collection of premium silks created especially for your next masterpiece. Enjoy Jenny's handpicked colors and textures of fine silk dupioni.
Jenny's Premium Silk Collection is available in pre-cut 1 yard lengths. Other lengths are available by special order.
Use and Care Instructions:
Pre-treat your silk fabrics using the same cleaning method that you plan to use for the garment after construction. You many want to purchase a little extra fabric for experimenting with cleaning methods.
Some silk fabrics actually look better when washed, as dry cleaning can sometimes cause a garment to look dull. Silk fabrics typically soften when washed. If you want your silk to stay crisp, consider dry cleaning.
Silk fabrics tend to shrink. The amount of shrinkage is dependent on the characteristics of the silk fabric. Allow at least an eighth of a yard per yard if you plan on washing your project. Launder silk fabric in mild detergent or soap and avoid the use of harsh bleach and chemicals.
Dry cleaned silk fabrics can and will shrink. As with washing, purchase additional yardage and pre-treat prior to cutting out.
Silk Dupioni
56" wide x 1 yard