Toowoon Bay Morning Glories Special Edition
Quantity in Basket:
None
Code:
J33SE
Our Price:
$39.99
Shipping Weight:
0.20 pounds
Toowoon Bay Morning Glories
The inspiration for this small quilt came from a park overlooking the sea at Jenny's holiday retreat Toowoon Bay, on the central coast of NSW Australia. As Jenny sat watching the waves roll in, she noticed the beautiful wild creeper called Morning Glory and quickly got out her pad and pencil and sketched these truly glorious flowers. This quilt is a tribute to the flowers and Jenny's beloved Toowoon Bay.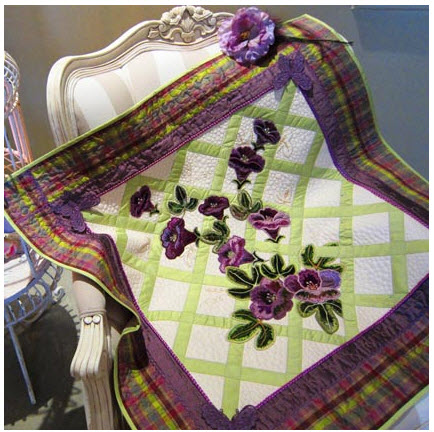 The COMPLETE INSTRUCTIONS and ALL EMBROIDERY DESIGNS needed to make the Toowoon Bay Morning Glories Quilt are included on the CD.