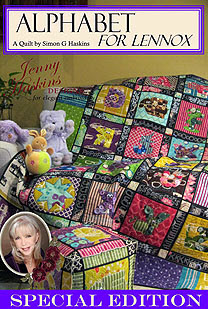 Alphabet for Lennox Special Edition CD
Quantity in Basket:
None
Code:
J26SE
Our Price:
$54.99
Shipping Weight:
0.20 pounds
Jenny Haskins Alphabet for Lennox Special Edition CD
Simon designed, digitized and made his Alphabet for Lennox quilt. Lennox is Jodie and George's) beautiful baby son (Jody is Simon's BFF). It is made from fairly heavy weight Japanese cotton fabric, front, back and applique using Quilt Magic Plus as Simon's choice of batting. We just love Simon's use of the colorful buttons on the alphabet characters and the googly eyes - Lennox just loves his quilt.
This is a scrappy quilt - front back and applique, and depending on how you choose to hoop your fabric, measurements for fabric are impossible to give. Simon once again used fat quarter bundles when making his quilt, so think about using up all those fat fabric quarters, you just have to purchase at the time and they are still sitting in your fabric stash. We suggest you use bright colorful fabrics that excite both the eye and mind of a young child.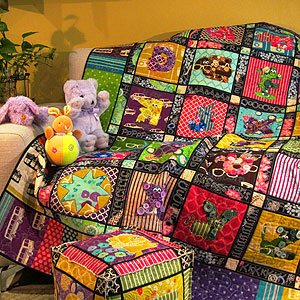 The COMPLETE INSTRUCTIONS and ALL EMBROIDERY DESIGNS needed to make the Alphabet for Lennox Quilt are included on the CD.