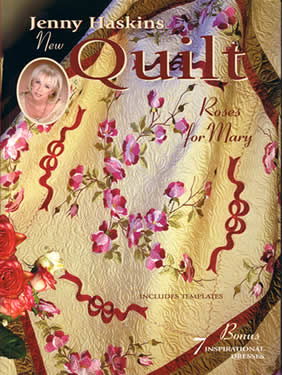 Roses for Mary Book
Quantity in Basket:
None
Code:
J-RFM
Our Price:
$34.95
Shipping Weight:
1.20 pounds
The Roses for Mary book is sold out but the same content is now available as a Special Edition CD. See the related products below for more details.
Roses For Mary
Once again Jenny returns to her favourite bloom, the rose, and with this gorgeous new quilt she calls Roses for Mary, she invites you to share her clever techniques to produce an object of exquisite beauty. Designed and digitized with long-and-short stitch, Jenny once again gives her projects the lustrous sheen of handwork but on a much grander application.
Roses for Mary is a ground-breaking quilt that steps outside the usual square format because it is constructed from panels, where the size and shape are determined by the embroideries they contain. See how Jenny has looked to nature when creating these floral embroideries. A naturalistic lack of symmetry gives an easy sense of movement and grace to her superbly crafted training rose designs. In Roses for Mary the reader invites you to join her on a tour of other possibilities using these gorgeous machine embroidery designs. As if this were not enough, there is also a peek into Jenny's fabulous inspiration wardrobe which shows just what is achievable with a modicum of skill, application and the will to push the boundaries and try something different.
Suggested Thread Colors for
ROSES FOR MARY

| | |
| --- | --- |
| 12 | Mountain Trail |
| 1041 | Prairie Grass |
| 132 | Autumn Green |
| 674 | Fifties Pink |
| 1048 | Pink Burst |
| 3 | Pink Posy |
| 121 | Natural Bridge |
| 1086 | Spungold |
| 1156 | Baby's Breath |

Published by The Watermark Press and Unique Creative Opportunities.
Related Item(s)