Jenny Haskins Fragrant Delights
Quantity in Basket:
None
Code:
J-CE-FD
Our Price:
$12.95
Shipping Weight:
1.00 pounds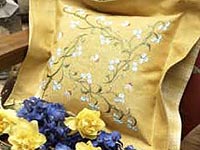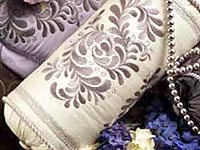 Creative Expressions Special Edition
Includes 17 FREE Embroidery Designs!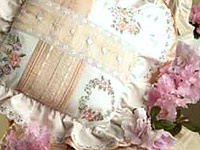 Fragrant Delights is another quilt by Jenny and Simon Haskins, which features silk strips embroidered with glorious large trapuntoed flowers. This is an easy quilt and ideal for beginners and experts alike, you will just love it.
As well as the instructions to make the Fragrant Delights quilt, we show case 10 wonderful pillows submitted by embroidery designers and distributors from around the world who also are giving away free sampler designs from their collections - the CE Special is filled with amazing creative concepts that will keep your little machine buzzing for hours!
Suggested Thread Colors for
FRAGRANT DELIGHTS

| | |
| --- | --- |
| 653 | Villa Tan |
| 9 | Llama |
| 517 | Briaroot |
| 1158 | Everything Rosey |
| 3 | Pink Posey |
| 175 | Plum Shade |
| 224 | Delia |
| 1041 | Prairie Grass |
Related Item(s)

653 Villa Tan
$5.99

9 Llama
$5.99

517 Briar Root
$5.99

1158 Everything Rosey
$5.99
3 Pink Posey
$5.99

175 Plum Shade
$5.99

224 Mulberry
$5.99

1041 Seafoam
$5.99