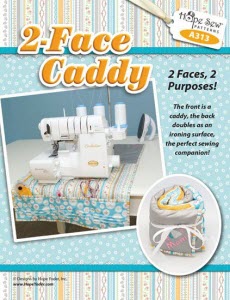 2-Face Caddy
Quantity in Basket:
None
Code:
HY901750
MSRP:
$18.00
Our Price:
$15.00
Shipping Weight:
0.20 pounds
2-Face Caddy by Hope Yoder
The front is a caddy, the back doubles as an ironing surface, the perfect sewing companion!
The 2-Face Caddy serves a dual purpose. Perch your serger or sewing machine on top and the caddy with Mexican folded tucks has convenient pockets to hold all your favorite sewing notions close at hand. The back extends behind your machine and doubles as a pressing mat to use with your travel iron. It's the perfect companion to take to class and it even rolls for storage. Finished size measures approximately 20" x 33-1/2".
Materials Needed:

Batting:

Insul-Brite 20"W x 36"H
Cotton batting 22"W x 36"H

Silver ironing board utility fabric:
Cotton Fabric - 1-1/2 yds:

Lining - 22" W x 36" H
Front - 20" W x 18" H
Pocket - 20" W x 7" H
Pocket Binding - 2-1/2" W x 21" H
Caddy Binding = Three (3) strips cut 2 1/2" W x 45" H

Gross-grain Ribbon: 1/4" wide x 36"
Thread:
Presser Feet:

Walking Foot with Guide Bar

Optional:

"Hot Mama" Embroidery Design from Tea Towel Quotes Embroidery Collection
Floriani Heat n Sta Stabilizer
Floriani Perfect Stick Stabilizer
In a hurry? We can E-mail your Designs CD to you!!
Your CD will then be shipped separately.