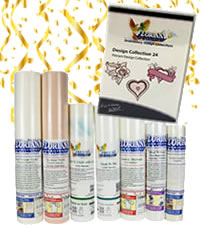 Floriani Winter Stash Bundle
Quantity in Basket:
None
Code:
FSP-WINSTASH
MSRP:
$280.00
Our Price:
$99.99
Shipping Weight:
5.00 pounds
Floriani Winter Stash Bundle
Don't get caught on these long, cold winter days without your embroidery essentials! Floriani's Winter Stash Bundle is the perfect solution for making sure you have everything you need this winter! Containing some of Floriani's most popular stabilizers and topping, this bundle is a great way for you to try out some of our best products! Start the New Year right with all the essential items every embroiderer needs!
This Bundle includes
Floriani Heat N Stay Fusible Tearaway 12" x 10yds

Floriani Wet N Gone Tacky 15" x 10yds

Floriani No Show Mesh White 12" x 10yds

Floriani Wet N Stick Lite Tearaway 12" x 10yds

Floriani No Show Fusible Mesh Beige 15" x 10yds

Floriani Water Soluble Topping 10" x 10yds

Floriani Heat N Gone 10" x 10yds

Floriani Design Collection 24