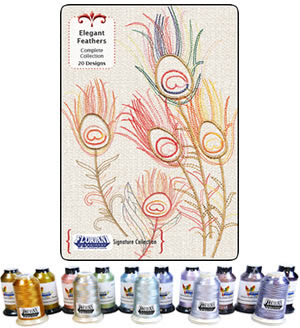 New Variegated and Rayon 15 Spool Set
Quantity in Basket:
None
Code:
FSP-VRNEW
MSRP:
$170.00
Our Price:
$69.99
Shipping Weight:
1.20 pounds
New Variegated and Rayon 15 Spool Thread Set
Get inspired this summer with Floriani's New Thread Bundle! In addition to 10 beautiful shades of Floriani Rayon, this amazing bundle also features the 5 newest spools of our unique variegated thread (also made with Rayon). These threads are perfect for adding a breath of fresh air to projects with colors like "Blooming Flax," "Wildberry" and "Gypsy Wind!" To help inspire you more, we are including Floriani's Elegant Feathers Design Collection!
This set includes the following colors:
| | | | | |
| --- | --- | --- | --- | --- |
| | 81- Mint | | | 646 - Icicle |
| | 121 - Latte | | | 1158 Everything Rosey |
| | 148 Pixie Dust | | | V42 - Storm |
| | 175 - Plum Shade | | | V9300 - Desert |
| | 179 - Gypsy Wind | | | V9302 - Wildberry |
| | 225 - Plum | | | V9400 - Oh Baby |
| | 552 - Old Gold | | | V9401 - Springtime |
| | 603 - Blooming Flax | | | |