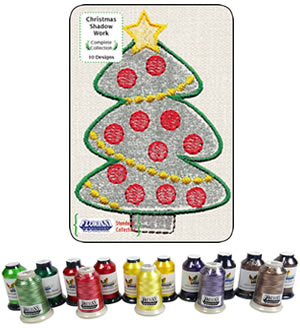 Holiday Variegated and Rayon 15 Spool Set
Quantity in Basket:
None
Code:
FSP-VRHOL
MSRP:
$170.00
Our Price:
$69.99
Shipping Weight:
1.20 pounds
Holiday Variegated and Rayon 15 Spool Thread Set
Bring in some Christmas cheer to cool off during these hot summer months! Floriani's New Holiday Thread Bundle contains 10 spools of Floriani Rayon Thread and 5 spools of Floriani Variegated Thread, just the thing to add new life to designs! Give your creations a spark of Christmas spirit with deep, soothing colors like "Milk Chocolate," "Merlot" and "Old Gold." And to add to the inspiration, this bundle also includes a Floriani Christmas Shadow Work Collection!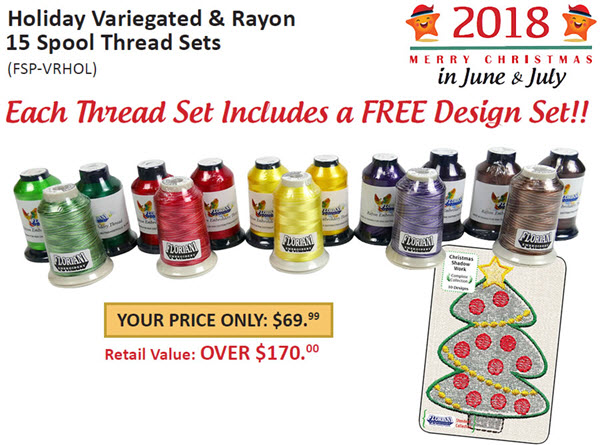 This set includes the following colors:
| | | | | |
| --- | --- | --- | --- | --- |
| | 6 - Red | | | 546 - Lemon |
| | 25 - Valley Green | | | 624 - Brown |
| | 60 - Magesty | | | V35 - Singapore Stripe |
| | 99 - Vermilion | | | V48 - Purple Stripe |
| | 186 - Milk Chocolate | | | V53 - Yellow Stripe |
| | 209 - Picnic Green | | | V72 - Nile Stripe |
| | 226 - Eggplant | | | V78 - Brown Stripe |
| | 543 - Firefly | | | |