Floriani Spring Fever Thread Set
Quantity in Basket:
None
Code:
FSP-SSFEVER
MSRP:
$240.00
Our Price:
$79.99
Shipping Weight:
3.00 pounds
Floriani Spring Fever Set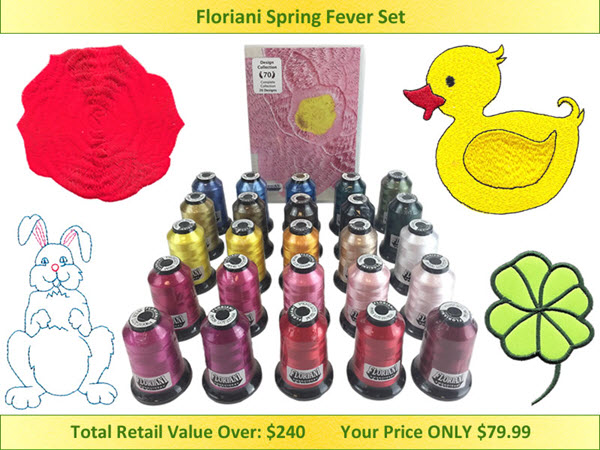 Add a splash of color into your spring and summer projects with our Spring Fever Set! These 25 spools of Floriani Polyester Embroidery thread are perfect for bringing vitality and warmth to your seasonal embroidery! To add to the fun, we are also including a FREE Floriani Design Collection, filled with warm spring imagery that uses each color from this amazing thread set!
| | | | | | | |
| --- | --- | --- | --- | --- | --- | --- |
| | PF0083 | Raspberry Rhapsody | | | PF0542 | Cockatoo |
| | PF0100 | Oyster | | | PF0561 | Old Ivory |
| | PF0104 | Rosetta | | | PF0702 | Fire Engine Red |
| | PF0116 | Peach Blossom | | | PF0703 | Ruby Red |
| | PF0125 | Bright Pink | | | PF0739 | Cleveland |
| | PF0128 | Scorching Pink | | | PF0741 | Pottery Buff |
| | PF0129 | Deep Pink | | | PF0800 | White |
| | PF0198 | Wine | | | PF0844 | African Safari |
| | PF0238 | Olive Drab | | | PF0900 | Black |
| | PF0259 | Grey Wool | | | PF3435 | Deep Ocean |
| | PF0296 | Granite | | | PF3764 | Parisian Blue |
| | PF0363 | Twinkle Blue | | | PFPY40 | Pink Passion |
| | PF0524 | Old Athletic Gold | | | | |