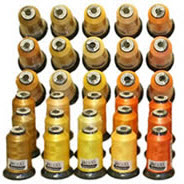 Floriani Yellow Threadset with FREE Threadbox!
Quantity in Basket:
None
Code:
FSP-S30YO
MSRP:
$219.00
Our Price:
$109.99
Shipping Weight:
5.00 pounds
Floriani 30 Spool sets of Color Themed Polyester Thread - Yellow
Do your spring projects require a more specific color scheme? Then specialize with these 4 sets of 30 spool polyester, each focusing on different color theme to cover whatever spring or floral arrangement may be required. Like the Ten Year Anniversary Spring Thread Collection, these sets will be priced $99.99 during this promotion!

Instead of the free designs, customers who buy any of these 30 spool sets will receive the 30 spool storage thread box, normally with a $39.99 retail value, for FREE!

Floriani 100% Polyester Embroidery Thread has a beautiful sheen that is brighter than most rayon's, and yet it has all the strengths of 100% polyester. It is manufactured with a tinsel strength designed to run smoothly on any machine including high speed commercial embroidery machines.

This set includes 30 beautiful Yellow colors that are 40 Weight Polyester Threads and come in 1000m/1100yd Cones plus a FREE 30 Spool Thread Box!
Color
Color
PF0011
Chalcedony Yellow
PF0533
Apricot
PF0170
Cantaloupe
PF0534
Pumpkin
PF0501
Chrome Lemon
PF0535
Golden Poppy
PF0502
Dandelion
PF0540
Cream
PF0503
Sunflower
PF0542
Cockatoo
PF0512
Jasmine
PF0544
Amber Yellow
PF0514
Golden Glow
PF0546
Snapdragon
PF0521
Cornsilk
PF0560
Blonde Straw
PF0522
Straw
PF0561
Old Ivory
PF0523
Goldenrod
PF0562
Walnut Taffy
PF0524
Old Athletic Gold
PF0563
Old Gold
PF0525
Athletic Gold
PF0564
Bran
PF0526
Bjol
PF0595
Apricot
PF0531
Vanilla
PF0751
Sweet Melon
PF0532
Sunrise
PF0753
Orange Peel