Home Sweet Home Thread Set & Designs
Quantity in Basket:
None
Code:
FSP-FHSHTS
MSRP:
$250.00
Our Price:
$99.99
Shipping Weight:
3.00 pounds
Home Sweet Home Design Collection
These 15 cute cottage designs come with 30 spools of beautiful Floriani 1000m thread. Use these for adorable and personalized housewarming gifts ALL year round! An INCREDIBLE value!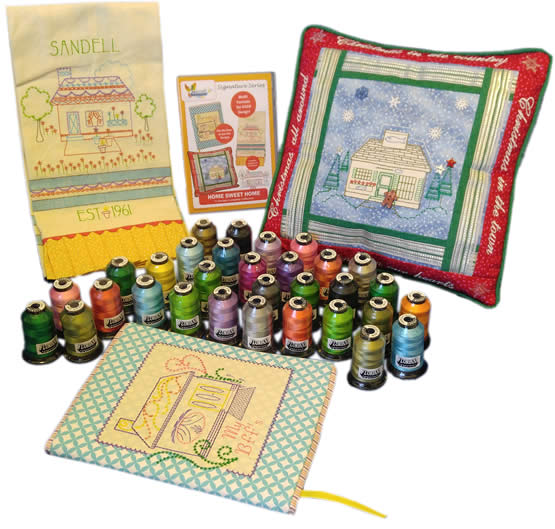 Threads included:
| | | | | | | |
| --- | --- | --- | --- | --- | --- | --- |
| | PF0103 | Pink | | | PF0369 | Blue Frost |
| | PF0105 | Laurel Pink | | | PF0370 | Mint Julep |
| | PF0129 | Deep Pink | | | PF0370 | Mint Julep |
| | PF0143 | Dark Coral | | | PF0385 | Niagra |
| | PF0145 | Rust | | | PF0462 | Medium Grey |
| | PF0184 | Salmon | | | PF0488 | Dark Gray |
| | PF0229 | Lime | | | PF0501 | Chrome Lemon |
| | PF0229 | Lime | | | PF0533 | Apricot |
| | PF0231 | Sour Apple | | | PF0672 | Amethyst |
| | PF0232 | Spring Green | | | PF0673 | Lavendar |
| | PF0233 | Irish Green | | | PF0675 | Luxury |
| | PF0236 | Ashen Green | | | PF0815 | Deep Clay |
| | PF0237 | Bean Green | | | PF0900 | Black |
| | PF0238 | Olive Drab | | | PF0900 | Black |
| | PF0265 | Dinosaur Green | | | PF4251 | Medium Gray |