Floriani Squeeze N Snip Tool
Quantity in Basket:
None
Code:
FLT-1
MSRP:
$20.99
Our Price:
$16.99
Shipping Weight:
0.20 pounds
Floriani Precision Embroidery Tools
Introducing Floriani's individual Precision Crafted Instruments for The Stitching Enthusiast. Previously only available as part of the Floriani Tool Kit.
Fine tune your own embroidery with these embroidery snips. Floriani Squeeze N Snip – Lightweight with a curved-fine tip, these snips are ideal for hand or machine embroidery.
Related Item(s)
Name
Price / Availability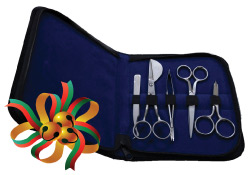 Floriani Embroidery Tool Kit
$69.99