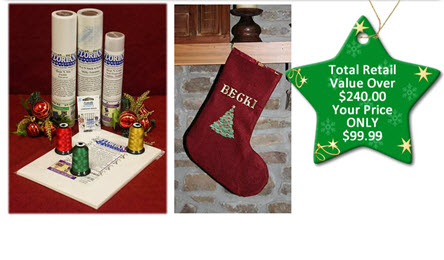 Stocking Project Bundle
Quantity in Basket:
None
Code:
FL-STOCKING
MSRP:
$240.00
Our Price:
$99.99
Shipping Weight:
2.00 pounds
Stocking Project Bundle
Deck the halls with this stocking project bundle, just in time for the holiday season! The Stocking Project CD teaches how to create this festive decoration, with a set of easy-to-follow instructions and template. From stitching the design to constructing the stocking itself, this project is perfect for rookies and experts alike. In addition to the comprehensive CD, this set also includes several Floriani stabilizers, needles, and thread, which are sure to enhance and inspire further holiday crafting!
This project bundle includes the instructions, design, template, stabilizers, thread, and needles required to make this classic holiday favorite! And as a bonus we'll be including a FREE bonus design with such Holiday imagery as stockings, holly, reindeer and more, normally worth over $100 in retail value! In all, this set has a retail value of over $240, and is available to you for ONLY $99.99 during Holiday Savings!

This Bundle includes
Stocking Project CD with instructions, design, and template

Floriani Heat N Sta Fusible Tearaway, 12" x 10 yds

Floriani Wet N Stick Lite Tearaway w/Grid, 12" x 10 yds

Floriani Heat N Gone, 10" x 10yds

Floriani Template Tearaway, 25 sheets of 8.5" x 11"

3 spools of Floriani Polyester Thread (1000m each)

Floriani Chrome Needles, Embroidery 75/11, pack of 5

BONUS! Free Holiday Design set worth over $100!