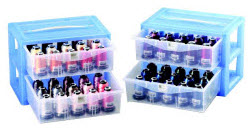 Two Brand New Thread Storage Boxes filled with 60 Floriani Thread Colors + FREE Shipping!
LIMITED QUANTITY
Quantity in Basket:
None
Code:
F60TS1
MSRP:
$560.00
Our Price:
$279.00
Shipping Weight:
12.00 pounds
60 Floriani Thread Colors with 2 FREE Storage Boxes
If you love the sheen and strength of Floriani thread ... you MUST HAVE our new 60 colors for your collection. This collection includes fabulous colors including vibrant blues, reds, greens as well as our highly anticipated NEW FLESH TONES!
Or, you can choose any 60 of Floriani's 360 thread colors to create your own thread bundle!
The following are the 60 new thread colors available:
| | | | | | |
| --- | --- | --- | --- | --- | --- |
| Oyster | | PF0100 | Lt Pink | | PF1510 |
| Medium Purple | | PF0139 | Light Bronze | | PF1514 |
| Shell | | PF0151 | Shrimp | | PF1545 |
| Dusty Rose | | PF0153 | Rose Dust | | PF1608 |
| Rosewater | | PF0161 | Intense Maroon | | PF1609 |
| Russet | | PF0195 | Orchid Ice | | PF1898 |
| Chocolate | | PF0199 | Dark Grey/Green | | PF2417 |
| Mitchell Green | | PF0249 | Medium Green/Blue | | PF3103 |
| Grey Wool | | PF0259 | Blue Dusk | | PF3335 |
| Granite | | PF0296 | Pretty Blue | | PF3433 |
| Dark Army Green | | PF0298 | Deep Ocean | | PF3435 |
| Imperial Blue | | PF0306 | Wonder Blue | | PF3657 |
| Moderate Blue | | PF0352 | Blue Hint | | PF3761 |
| Pale Sterling Grey | | PF0433 | Baby Blue | | PF3763 |
| Medium Grey | | PF0461 | Parisian Blue | | PF3764 |
| Medium Grey | | PF0462 | Cosmic Sky | | PF3871 |
| Pale Peach | | PF0571 | Dusty Navy | | PF3877 |
| Orange | | PF0578 | Dark Navy | | PF3878 |
| Shell | | PF0591 | Medium Grey | | PF4251 |
| Pale Orange | | PF0594 | Light Pink | | PF4321 |
| Apricot | | PF0595 | Dark Grey/Blue | | PF4352 |
| Viola | | PF0600 | Charcoal | | PF4613 |
| Cadet | | PF0633 | Light Pink | | PF6001 |
| Mulled Grape | | PF0634 | Ocean Blue | | PF6351 |
| Haze | | PF0652 | Steel | | PF6354 |
| Turtledove | | PF0720 | Light Brown | | PF6502 |
| Amber Beige | | PF0778 | Gun Metal Grey | | PF6504 |
| Dark Grey | | PF0779 | Dark Purple | | PF6657 |
| Nude Gold | | PF0809 | Medium Brown | | PF7983 |
| Pink Mist | | PF1020 | Brown Stone | | PF7986 |