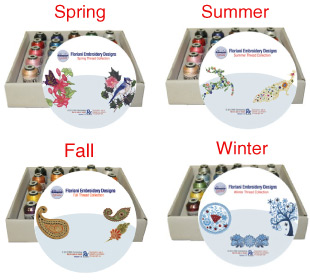 Floriani's Seasonal Thread Set Bundle - BUY 3 GET 1 FREE + FREE Shipping!!
Quantity in Basket:
None
Code:
F25ST1-4
MSRP:
$1000.00
Our Price:
$299.00
Shipping Weight:
12.00 pounds
Florianiís Seasonal Thread Sets with FREE Designs
It has never been easier to own the industry's most beautiful thread with the brightest sheen.
You will want all 360 colors of Floriani Polyester Embroidery Thread and now is the time to stock up! During our YEAR-END SELL-OUT purchase any three Floriani Seasonal (Spring, Summer, Fall, or Winter) Thread sets and receive the 4th FREE!
Each set comes with 10 beautiful Floriani Designs valued at over $100 per set.
Purchase all 4 of Florianiís 25 spool thread sets for ONLY $299.00!! Normally $149.99 each, all 4 sets MUST be bought together to take advantage of this incredible $299.00 price!
HURRY - ONLY WHILE SUPPLIES LAST! See the related products below for more details on each thread set.
Related Item(s)