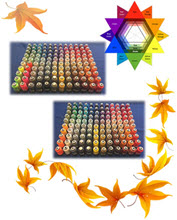 New Floriani 120 Set 2
Quantity in Basket:
None
Code:
F120TS2
MSRP:
$729.99
Our Price:
$504.00
Shipping Weight:
9.00 pounds
Floriani 120 Spool Thread Set 2 - NEW!
This is the second of three 120 spool sets containing the newest Floriani colors. If you purchase all three sets you will have all 360 of the current Floriani colors, including the 30 new colors added in fall 2017.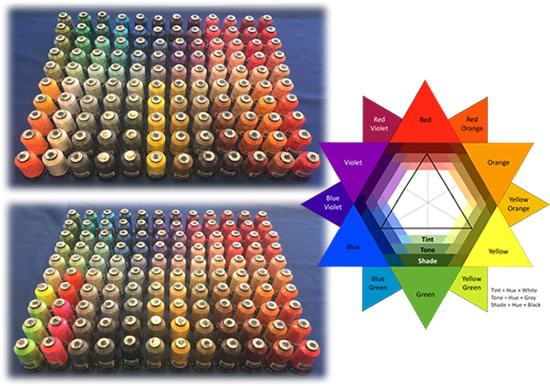 Threads Included:
PF0004
Indian Orange
PF0485
Gray
PF0005
Neon Orange
PF0486
Slate Gray
PF0011
Chalcedony Yellow
PF0489
Charcoal Gray
PF0015
Incandescent Orange
PF0501
Chrome Lemon
PF0017
Dreamsicle
PF0522
Straw
PF0055
Pristine Blue
PF0524
Old Athletic Gold
PF0074
Medieval Teal
PF0525
Athletic Gold
PF0101
Pale Pink
PF0526
Bijou
PF0104
Rosetta
PF0534
Pumpkin
PF0106
Dark Pink
PF0544
Amber Yellow
PF0110
Pale Peach
PF0546
Snapdragon
PF0133
Powder Puff
PF0562
Walnut Taffy
PF0135
Renaissance
PF0563
Old Gold
PF0139
Medium Purple
PF0565
Harvest
PF0140
Light Coral
PF0578
Volunteer
PF0143
Dark Coral
PF0614
Slate Lilac
PF0156
Persimmon
PF0626
Deep Iris
PF0163
Soapstone
PF0635
Arab Plum
PF0169
Coral Reef
PF0653
Spring Beauty
PF0170
Cantaloupe
PF0654
Orchid
PF0173
Wildflower
PF0675
Luxury
PF0182
Misty Maize
PF0703
Ruby Red
PF0190
Scarlet
PF0711
Incan Gold
PF0195
Russet
PF0720
Turtle Dove
PF0210
Miranda Green
PF0730
Off White
PF0219
Green Mist
PF0734
Oak Bluff
PF0220
Wintergreen
PF0740
Pale Orange
PF0236
Ashen Green
PF0749
Mahogany
PF0237
Bean Green
PF0765
Satin Sheet
PF0238
Olive Drab
PF0767
Muted Spice
PF0252
Spearmint
PF0769
Dark Cinnamon
PF0253
Pale Green
PF0779
Dark Grey
PF0263
Pale Jade
PF0784
Light Sienna
PF0264
Medium Green
PF0786
Berkshire Brick
PF0266
Emerald Green
PF0796
Provincial Rose
PF0296
Granite
PF0800
Pure White
PF0306
Imperial Blue
PF0801
Ice Cap
PF0308
Dark Blue
PF0809
Nude Gold
PF0332
Periwinkle
PF0842
Willow Leaf
PF0342
Slate Blue
PF0850
Lamp Light
PF0344
Pilgrim Blue
PF1014
Dusty Rose
PF0357
Navy Blue
PF1021
Buff
PF0360
Dark Navy
PF1051
Singapore Sunset
PF0369
Blue Frost
PF1053
Summer Sunset
PF0371
Tahoe Blue
PF1081
Pink Rose
PF0373
California Blue
PF1082
Rose Cerise
PF0376
Indian Ocean
PF1083
Begonia
PF0391
Beryl Blue
PF1084
Hibiscus
PF0395
Blue Cedar
PF1119
Impatience
PF0416
Penguin
PF1121
China Rose
PF0421
Wood Ash
PF1514
Light Bronze
PF0436
Graphite
PF2011
Light Olive
PF0451
Light Taupe
PF3761
Blue Hint
PF0452
Taupe
PF3764
Parisian Blue
PF0453
Dark Taupe
PF4352
Dark Grey/Blue
PF0461
Chrome
PF4845
Pale Grey
PF0462
Silver
PF5681
Sonoma
PF0482
Delicate Pearl
PF6351
Ocean Blue
PF0483
Light Gray
PF6657
Dark Purple
PF0484
Country Gray
PFK33
Blue Harmony