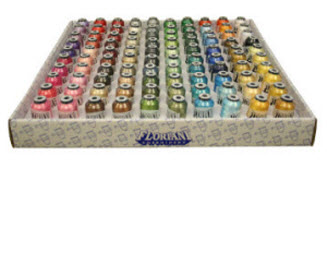 Floriani 100 Spool Thread Set 2
Quantity in Basket:
None
Code:
F100TS2
MSRP:
$599.00
Our Price:
$420.00
Shipping Weight:
9.00 pounds
Floriani 100 Spool Thread Set 2
Floriani 100% Polyester Embroidery Thread has a beautiful sheen that is brighter than most rayon's, and yet it has all the strengths of 100% polyester. It is manufactured with a tinsel strength designed to run smoothly on any machine including high speed commercial embroidery machines.
This set includes 100 beautiful colors that are 40 Weight Polyester Threads and come in 1000m/1100yd Cones.
Color
Color
PF0001
Neon Radiance
PF0422
Lime Gray
PF0003
Neon Red
PF0436
Graphite
PF0005
Neon Orange
PF0452
Taupe
PF0009
Safety Yellow
PF0484
Country Gray
PF0011
Chalcedony Yellow
PF0512
Jasmine
PF0014
Milori Green
PF0516
Autumn Gold
PF0018
Navahoe Orange
PF0526
Bijol
PF0074
Medieval Teal
PF0533
Apricot
PF0106
Dark Pink
PF0535
Golden Poppy
PF0116
Peach Blossom
PF0542
Cockatoo
PF0123
Pink Mist
PF0546
Snapdragon
PF0128
Pastel Blue
PF0601
Zephyr
FP0131
Light Lilac
PF0605
Grape
PF0135
Renaissance
PF0614
Slate Lilac
PF0141
Coral
PF0624
Afterglow
PF0155
Martha Washington
PF0635
Mulled Grape
PF0163
Soapstone
PF0661
Light Violet
PF0167
Deep Mauve
PF0673
Lavender
PF0180
Pink Flesh
PF0675
Luxury
PF0184
Salmon
PF0687
Violet Blue
PF0188
Iron Rust
PF0689
Concord Grape
PF0198
Wine
PF0695
Purple Passion
PF0203
Moss
PF0702
Fire Engine Red
PF0219
Green Mist
PF0713
Antique Bronze
PF0221
Neptune
PF0734
Oak Buff
PF0223
Dark Teal
PF0738
Arab Tan
PF0238
Olive Drab
PF0753
Orange Peel
PF0245
Woodland Green
PF0765
Satin
PF0248
Hunter Green
PF0769
Dark Cinnamon
PF0255
Evergreen
PF0784
Light Sienna
PF0262
Nile
PF0792
Shasta Pink
PF0264
Medium Green
PF0796
Provincial Rose
PF0266
Emerald Green
PF0842
Willow Leaf
PF0284
Scotch Green
PF1011
Rose Carolina
PF0291
Seafoam
PF1014
Dusty Rose
PF0294
Pine Green
PF1053
Summer Sunset
PF0308
Dark Blue
PF1084
Hibiscus
PF0312
Gettysburg
PF1086
Raspberry
PF0333
Baltic Blue
PF1119
Impatients
PF0335
Midnight Blue
PF1121
China Rose
PF0344
Pilgrim Blue
PF1182
Currant
PF0358S
Midnight Navy
PF1602
Cameo
PF0364
Starlight Blue
PF1900
Petunia
PF0367
Blueberry
PF1904
Pansies Perfection
PF0370
Mint Julep
PF1908
Dark Pansies
PF0376
Indian Ocean
PF2011
Light Olive
PF0385
Niagara
PF2015
Patio Green
PF0392
Honey Bird
PF2042
Aquamarine
PF0413
Old Silver
PFK07
Solar Blue