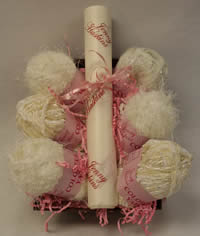 Faux Knitting Kit - White
Quantity in Basket:
None
Code:
JYK-WHITE
Our Price:
$49.99
Shipping Weight:
1.10 pounds
Faux Knitting Kit - White
Jenny Haskins Faux Knitting Kit - White includes the following items:
Selection of 6 Skeins of White Yarns
2yds roll of Jenny's Dissolve Magic Sticky
Free Design
Faux Knitted Scarf instructions
Create your very own unique textured fabric with Jenny's new exquisite yarns and short-cut "knitting" technique. The technique is simple and the results are dramatic...NO knitting needles required! Faux Knitting is a technique that emulates knitted fabric, but is achieved using yarns, Jenny Haskins Dissolve Magic Sticky and a sewing machine.
Create a beautiful shawl or wrap, hat with matching gloves or handbag! The possibilities are endless. This amazing technique is used throughout Jenny's book When Dreams Flower. Instructions are found in the book but are NOT included with the kits.