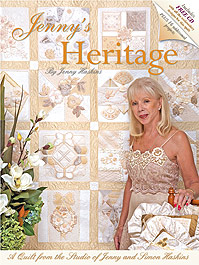 Jenny's Heritage Quilt
Quantity in Basket:
None
Code:
J-JHQ
Our Price:
$59.99
Shipping Weight:
1.20 pounds
This book is now out of print but Jenny has released a Special Edition CD that includes the instructions for the Heritage Quilt, instructions for the 16 pillows and embroidery designs. Click here for more details.
Click here or click the image for a larger view
As well as the Jenny's Heritage quilt and 16 pillows the book is filled with spectacular techniques to dazzle and inspire quilters and embroiderers alike. The book also includes a revolutionary 'perfect every time embroidery technique that is easy, fun and simple to achieve!'

Jenny's Heritage also includes a FREE CD with the 47 designs needed to make this quilt and the 16 pillows, the CD alone is worth the cost of the book.

The first quilt Jenny designed and made was a cream tone-on-tone quilt back in 1992. This quilt was called The Heritage and introduced the first 'block-of-the-month' quilt to be taught in sewing machine dealers' stores across Australia. Jenny's goal in making this stunning quilt was to introduce machinists to quilting with simple techniques and basic quilting. In doing this, sewers gained confidence, learned new techniques and made a beautiful quilt. 'Just because a quilt (or anything for that matter) is beautiful doesn't mean it has to be difficult', is Jenny's catchphrase. The Heritage quilt was the most successful quilt taught in Australia, with ongoing classes for over five years. Hundreds of The Heritage quilts were made. Sewers now had a fresh approach to quilting, gaining confidence and the wonderful self-validation that completing a quilt gives to the creator.
Jenny's Heritage is a quilt designed to do for machine embroiderers what The Heritage quilt did for sewers. It is as effortless as it is stunning – introducing sewers to a machine embroidered quilt and teaching the more experienced quilters some of Jenny's time-honored techniques, ones she has not published to date. No embroidery designs are embroidered directly onto the quilt. Instead, Jenny employs a user-friendly cut-and-paste technique called Embroidered Decoupage – an approach that is amazing in its simplicity when it comes to machine embroidered quilts. You simply cannot fail with Jenny's Heritage. Choose to make just one or two blocks from the quilt or several of the 16 glorious pillows we have included in this book – or 'spread your wings and soar with the eagles' and make the whole quilt. Go on! Grab hold of your courage with both hands and join Jenny as she gently guides you through her latest creation – Jenny's Heritage. You can't fail!